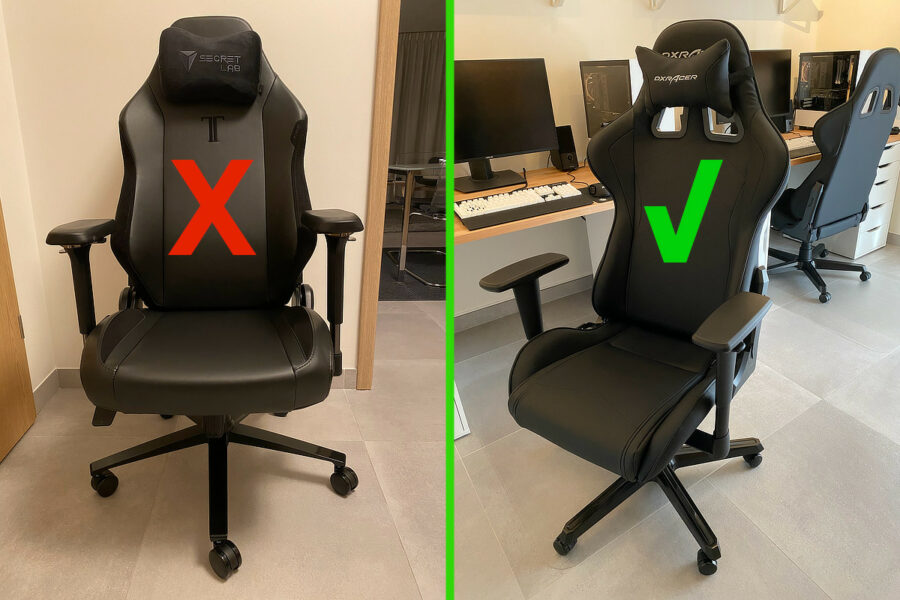 After 6 years, the time had finally come to replace our old DXRacer gaming chairs. The only problem was that the fake leather had started to crack. Other than that, the chair was as comfortable as it was on day one.
After months watching videos and reading forums, it became clear that there wouldn't be an easy solution to the question "which gaming chair is the best for us".
To some, the best gaming chair isn't a gaming chair but an office chair like the Herman Miller Aeron or the Steelcase Leap v2. Both chairs cost more than 1000,00€
To others, the Secret Lab Titan Evo 2022 is the ultimate gaming chair and its only alternative is the DXRacer Formula. Both cost less than 600,00€.
One thing that is certain, Secret Lab's marketing is amazing, they're everywhere! Their trick is simple: post a review and a picture of your chair anywhere on social networks and we'll give you a warranty extension. As a result, you're literally hammered by the brand.
We don't really have a budget limit when it comes to our battle stations but I guess that we're still not used to go over the 1K price tag for a chair. Psychologically, it remains a barrier.
We both suffer of dust allergy and a fabric seat easily becomes itchy, while leather and fake leather chairs can easily be wiped with a Swiffer.
As a result, we ordered two chairs from Secret Lab, a small for Soforah and a regular for me. Let me tell you that the quality is impeccable. The chair is easy to assemble and feels very solid with an attention to every detail.
The only problem is that no matter how we tune it, that chair is the most uncomfortable thing I've ever had to sit on! It's so solid, it feels like on a wood plank. Not only did it hurt our backs but our bottoms as well! We gave it 2 weeks to see if it would break in but nothing changed, that chair is a real piece of shit! (Aah, the power of profanity…)
So we ended up purchasing two DXRacer Formula. We know that chair, we've already used one and it lasted 6 years, for 300,00€. Ok, the quality isn't the same, the chair feels less sturdy than the Secret Lab, but it feels good on our backs and on our butts!
Why didn't we buy an Herman Miller instead? You have to know that Herman Miller delivers the chair and picks it back up if you change your mind during the first 30 days. The chair is delivered constructed and with a 12 years warranty. But I guess that we didn't want to do any more tests this year. We had just spent nearly a month with 4 gaming chairs in our apartment, changing every single day and talking about it for hours. At some point, we made a decision and we'll stick to it until next year. All we want for now is to empty up our heads of those questions and sit to comfortably for the new expansion of World of Warcraft.
So, are we in Gaming chair heaven? No. Is the DXRacer more comfortable than the Secret Lab? Oh hell yes! I can't actually believe that the Titan receives so many good reviews while it's the most atrocious chair I've ever tried in my entire life. Will we order an Herman Miller? There is no doubt about that, but it'll have to wait 2023.