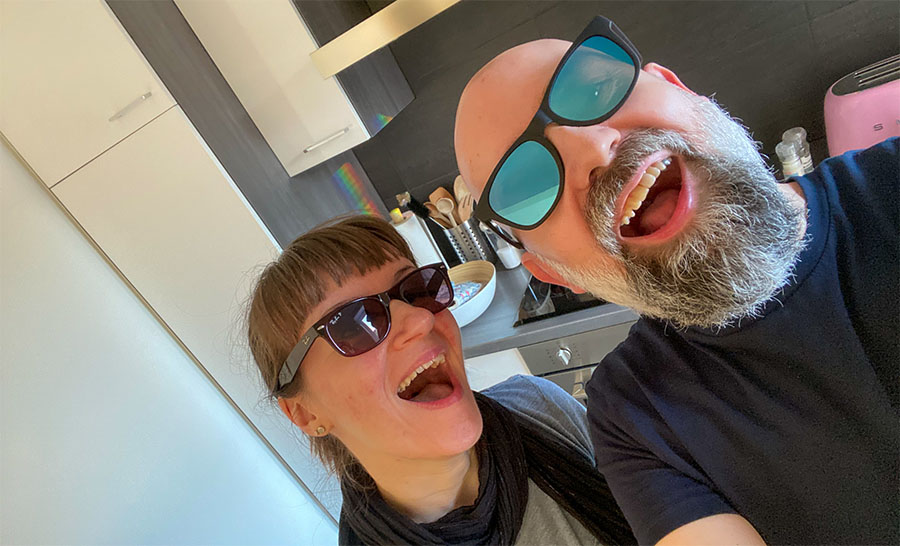 Hello, we are Soforah and Sardoken. We live in Brussels (it's in Belgium) and we strongly believe that the 80s were the best decade humanity has ever known. We try to abide by this formula for a happy life: Video Games, TV and delicious food. So far, it seems to work.
Sardoken
My name is Christophe, but most people call me Chris. Online, I go by the nickname Sardoken, which is a derivative of the word Sardaukar from the books Dune by F. Herbert.
I play video games since Maniac Mansion on C64 and The Secret of The Monkey Island on Amiga. Even if I've always been gaming, it's with Diablo 1 & 2 that I've started spending some real time in front of my screen.
The first time that I've played World of Warcraft, I knew that my life had just changed. The scale of the game, the graphic style and the feeling of adventure were a perfect hit, as if someone knew exactly what I had always been looking for in a video game and made it real. To this day, WoW remains the game that I've played the most. Getting to share it with Soforah brought the experience to the next level, we even have a dedicated room in our apartment, where we get to live our adventures side by side.
My main character is Balistor, a dwarf paladin on Argent Dawn EU.
I also watch a lot of TV, especially science-fiction, fantasy and horror.
Soforah
Hello, I'm Inge aka Soforah. Soforah is my online nickname which means absolutely nothing special. One day this name popped up in my head for a gaming character, and I stuck to it eversince.
About 15 years ago, Sardoken offered me my first gaming platform, a Nintendo DS and Animal Crossing. At first I was sceptical, but in the end I loved it so much, I got completely hooked.
At that time, Sardoken was already playing World of Warcraft. After 4 years of hearing him talk about his fantastic adventures in Azeroth, I finally jumped on that train as well. I can't believe it took me so long because until this day, WoW has been my favourite game, my passion and provided the most fun community.
My main character is Sisqi, a dwarf paladin on Argent Dawn EU.
When I'm not busy saving Azeroth, I'm mostly busy building Legos, watching cool TV-shows & movies, or I'm trying to finish one of my ancient old crafting projects (one day, one day…).
A few facts about us
Sardoken's first language is french;
Soforah's first language is dutch;
Sardoken has a master's degree in Criminology;
Soforah has a bachelor's degree in Graphic Design and Advertisement;
We both work in Finances;
We both work in the same tower;
We both work from home most of the time;
We don't enjoy crowded places;
Italian food > other food;
We have a lot of food allergies;
Star Trek > Star Wars;
Voyager > Deep Space Nine > The Next Generation;
We're Apple fans;
Soforah enjoys crafting things, especially crochet;
We love building Lego together.