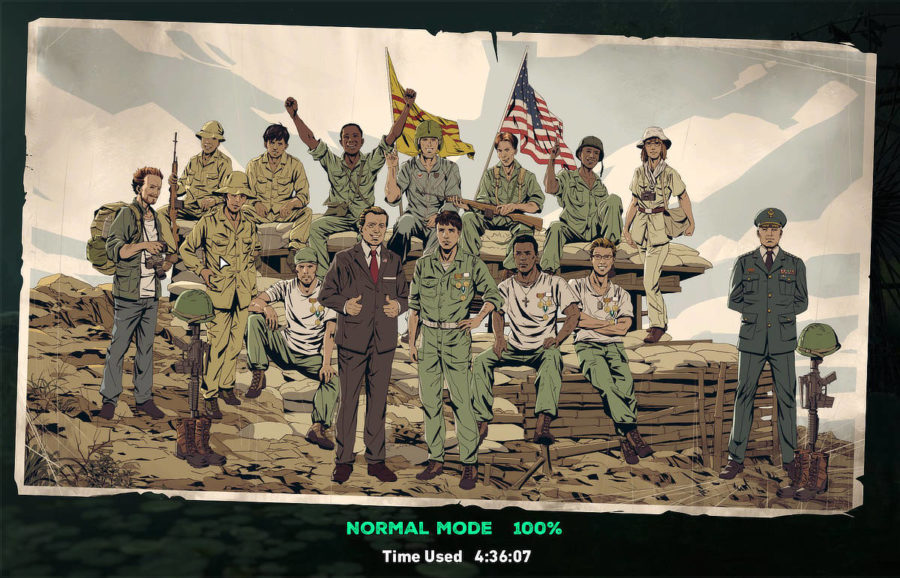 I've just completed the Far Cry 5 DLC – Hours of Darkness and it has been one of my best gaming time ever.
I forgot how much I loved to watch Vietnam-war era movies. From Full Metal Jacket to Apocalypse now, I was obsess by Vietnam when I was a kid. It was one of my longest phases, just after astronaut and before surfer. Yep, those were the days I would change my entire life (meaning re-decorating my bedroom) because of a movie. Trust me, you didn't want to know me after Ghostbusters… Anyway, Vietnam movies had such an impact on me that my mum had to drive me to American supply shops on Saturday afternoons, so I could buy U.S. military gear.
Playing Hours of Darkness just brought me back to these times. Don't worry, as tempting as it may be, I won't run around my neighborhood dressed like a G.I., I've grown up! But it was nice completing objectives in a jungle setting. I really wish that a good Vietnam war game was made, but I understand that the topic might not be as popular as it once was…
The picture above is displayed at the end of the game, after you have successfully reached the extraction point. It gets populated in function of the challenges that you've completed during your run. Then, the credits start rolling and one of the most amazing song starts playing (it starts at 0:33):
Thank you, Ubisoft, for making me discover The Cambodian Space Project.
For the story, Kak Channthy (c.1980 – 20 March 2018) was a Cambodian singer and vocalist, she has been described as "the barefoot diva of the Cambodian rice fields". She formed the Cambodian psychedelic rock band "The Cambodian Space Project" with her Australian husband Julien Poulson and worked as the lead singer and songwriter releasing 5 albums and touring 24 countries around the world. (source: Wikipedia)
Sometimes, you have the feeling that you've seen or heard it all but, really, you don't.