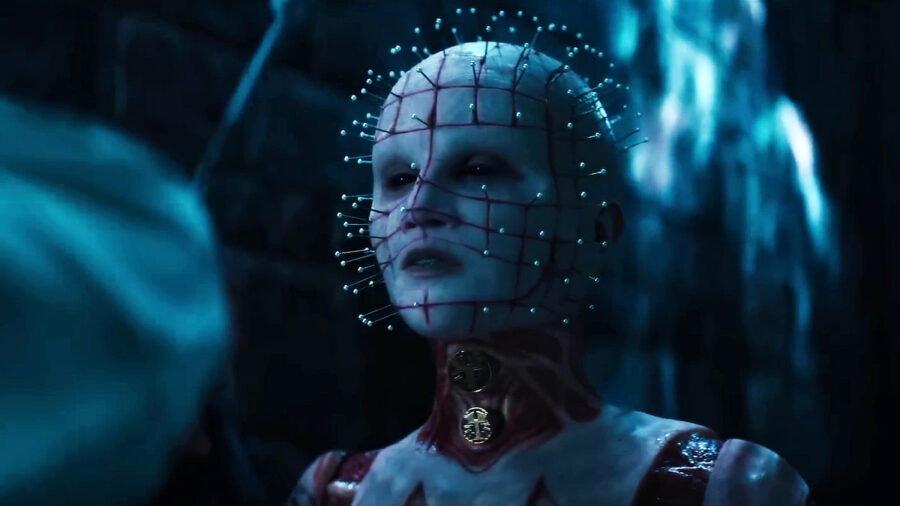 A take on Clive Barker's 1987 horror classic where a young woman struggling with addiction comes into possession of an ancient puzzle box, unaware that its purpose is to summon the Cenobites. (IMDB)
The second movie of our Halloween evening was a blast and probably our favourite of the franchise.
Changing the cenobites to female characters probably made more than a few fans angry but I love it. Jamie Clayton (The Priest) and Selina Lo (The Gasp) managed to breath new life into their characters while remaining twisted and super creepy.
Doug Bradley, who originated the role of the Hell Priest/Lead Cenobite/Pinhead, had this to say about Jamie Clayton's take in a Twitter post: "I'm a bit blown away by this! The clever re-design of the make-up; the shimmer of the "pin heads"; the palette; whatever that keyhole/locket/tracheotomy thing is at the throat. It's simple, subtle, disturbing and sexy. Everything it should be."
The new cenobites aren't the only change I enjoyed… To be honest, I never really enjoyed the hell dimension and I was very happy to see a Hellraiser movie happening in our reality.
The plot was excellent and managed to keep us on the border of our seat during the entire movie. David Bruckner did a fantastic job bringing an 80s classic to this era.