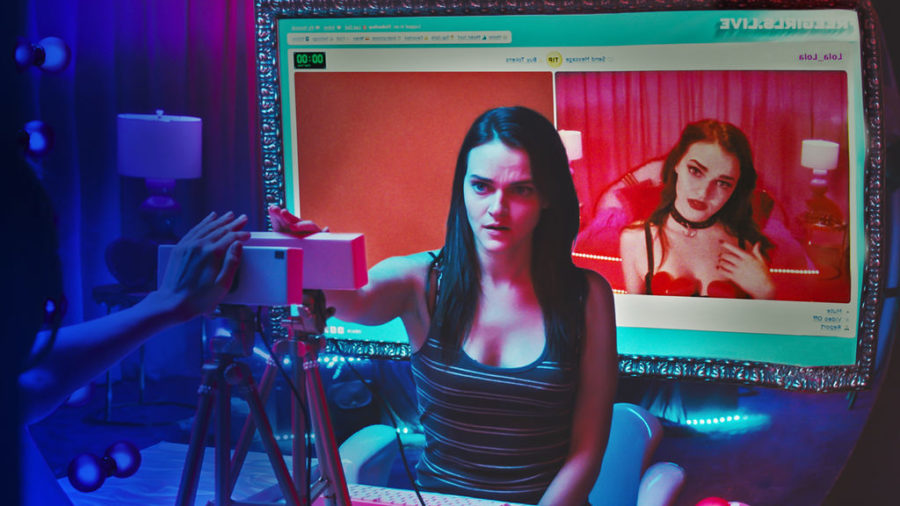 Alice, an ambitious camgirl, wakes up one day to discover she's been replaced on her show with an exact replica of herself. (source: IMDB)
Not being a great fan of the "streaming generation", I was afraid to get bored with this movie. Also, I was very prejudiced toward the sexy cam girls and websites like onlyfans.
Watching this movie made me change my mind completely. So, let me be clear: if I was a sexy girl and I would look good on camera, I would be a cam girl!
Clearly, it isn't as easy as many people think. You have to build a fan base and keep people engaged with your content. You also have to deal with the hate and hypocrisy. But, in the end, you do your own thing, following your own rules. A great Vice documentary to watch after this movie is Making $1.5M/month on OnlyFans and Twitch: Amouranth.
Now, as a 47-year-old happily married dude, I couldn't possibly imagine sacrificing 10 minutes of my already too busy day to watch a girl riding a banana in an inflatable pool. However, the movie and the documentary opened my eyes on another reality.
Another topic tackled by Cam is the rise of AI in online video content. There is a deleted scene that suggest the mysterious figure that has taken over Alice's online persona, is in fact an algorithm. Taking over hundreds of hours from Lola's past videos to create content that would attract abundance of viewers. Hence the AI or the algorithm could produce content without any physical or moral restriction set by Alice.
With the rise of the Metaverse and our future identity being reduced to 3D avatars, will we be so easily replaced by an AI? Sometimes, it makes me wanna live in a cabin in the woods with my wife, befriending grizzlies, at least they are real!