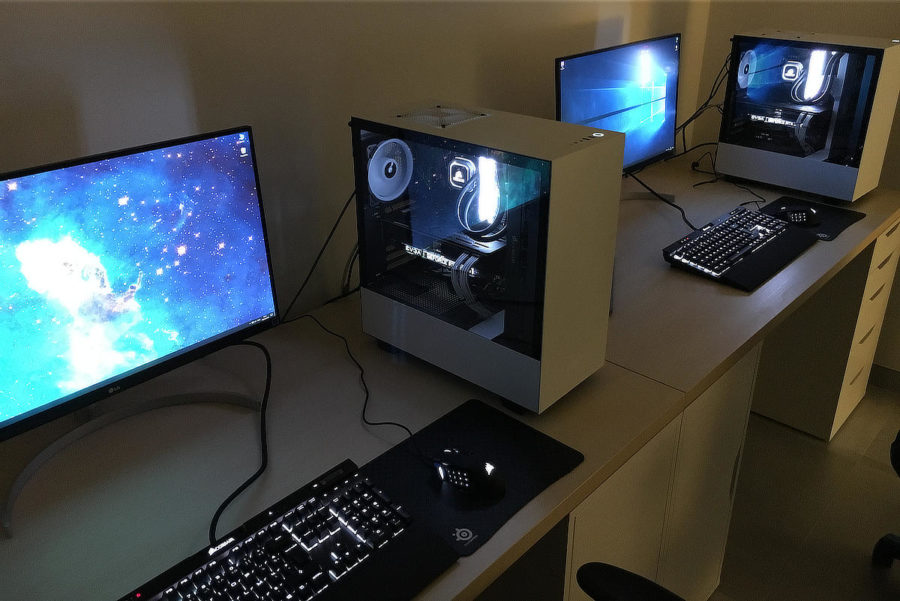 I want to keep track of the changes that I make to my setup. On the picture above, you can see the PCs that Inge and I have built in April.
Displays
The displays have already been replaced by Asus PG279Q (27"-1440px-Gsync) because the refresh rate of the LG 4k screens was too low for gaming. Even if the refresh rate of the Asus display is amazing, one of the 2 screens had dead pixels in the middle and they both have a bit of backlight bleed. We could get the screen with dead pixels replaced, but the BLB remains on both screens. I don't wanna sound like an elitist but with such a high price tag, the overall build of the Asus screen was underwhelming and I think that I'll go back to BenQ when the 4K with high refresh rates will become cheaper.
PC parts
NZXT 500 white;
Asus Maximus XI hero;
Intel Core I9-9900k;
Corsair Vengeance RGB PRO Series 16 Go (2x 8 Go) DDR4 3200 Mhz;
ASUS GeForce RTX 2070 SUPER ROG-STRIX-RTX2070S-O8G-GAMING;
Samsung SSD 860 EVO 1 To;
Samsung SSD 860 EVO 500 Go;
Corsair Hydro Series H115i PRO;
Corsair RM850x White MODULAR 80 PLUS GOLD 850 WATT EU VERSION.
It's the second time that I trust the reviews about EVGA, and it's the second time that I'm disappointed. A few years ago, we had to wait an update of the software to be able to enjoy the full fan speed on our GTX 1080, this time it's Inge's GPU that got fried after only a few months of light use. We've replaced hers with an ASUS RTX STRIX 2070 O8C and mine is on the way. We will keep my old GPU on the side as spare part.
Controllers
Corsair Gaming K70 RGB MK.2 (Cherry MX Red);
Corsair Gaming Scimitar Pro RGB (Black).
Sound
Steelseries Arctis Pro + Gamedac;
Logitech Z120 speakers.