Well, I guess that this is it, Sam and Dean Winchester are now officially done saving the world and hunting monsters.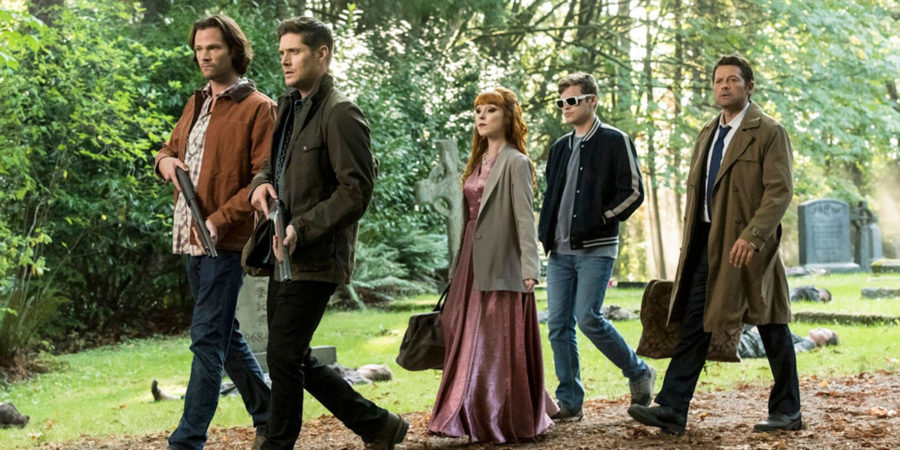 While this TV-show kept us entertained during our dinner times for years, the very last episode nearly killed us with sadness. I know that this sounds dramatic, but they did everything possible to make even the toughest cookie shed a tear or two. SPOILER ALERT! Especially the entire scene with Dean's death on "Brothers in Arms" of Dire Straits… They surely picked up the saddest song in the history of music. Seeing him afterwards with Bobby in heaven kind of lifted up the spirits though.
So many cool characters have joined and left each season, amongst our favourites were Castiel, Jack, Bobby, Crowley, Meg (our favourite bad mouthed demon), Rowina, Garth, and last but not least, Lucifer. Admit it, the man has class:
After the last episode both actors, Jared Padalecki and Jensen Ackles made a little goodbye speech for their fans. I think that it must have been hard for them ending their 15 year long adventure as the Winchester brothers.
Anyway, here are some of my favourite episodes that I'll never forget:
Scoobynatural was one of my absolute favourites. I've always been a fan of Scooby Doo and seeing a crossover with SPN was awesome. Also, we had a super delicious pizza while watching this particular episode so, it's branded in my memory as a perfect evening;
We've literally rolled over the floor of laughing with Yellow Fever. Seeing the normally fearless Dean scream like a little girl was hilarious;
Another one that made us laugh was Bad Day at Black Rock. Dean ends up having incredible luck which meant that the most unlikely things could happen. Writing this makes me realise how much we liked the character of Dean, the dude could be dead serious (way too serious at times), but also be the biggest clown. To end up on that note, here's one of our favourite videos that we've watched quite a few times:
Like the show's musical anthem says; "Carry on Wayward Son. There'll be peace when you are done." – Kansas. Rest in peace guys. It was one hell of a ride!