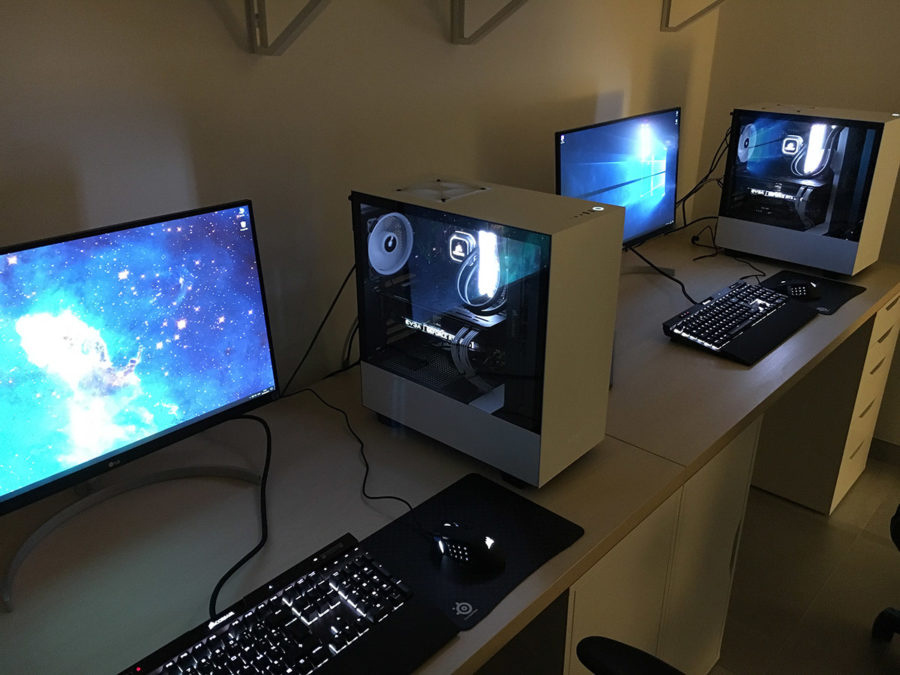 After a far too long break from PC gaming, we finally decided to build two new rigs…
For the build, we didn't go overkill on the GPU, the price difference between an RTX 2070 and a 2080 ti was 1000,00€ per computer. Since 4k PC monitors with decent refresh rates aren't within our reach yet, we targeted a gaming resolution of 1440p.
We went for an i9 9900k, since most of the bottlenecking in WoW comes from the CPU. It is also the first time that we used an AIO watercooler (Corsair h115i pro). It is incredibly more quiet and, so far, it seems to cool down the CPU very effectively.
We departed from the black Fractal case for something fancier: the NZXT H500. It is an amazing PC case with great cable management. The size and minimalist looks make it the perfect choice for our gaming space. Our desks are both 150cm wide and we didn't want to be encased between two black blocks. Also, for years, I trusted the reviews about Fractal cases, but I never found the define models as silent as advertised, nor was the cable management that great. Actually, the H500 is even more silent and it doesn't even use any damping material. I must admit that the use of PWM fans and a watercooler are probably responsible for the lower noise levels.
We took a few pictures during the process:
You can find the complete part list of the build on PCpartpicker.
Congratulations to Soforah for having participated to the assembly, she did an awesome job!