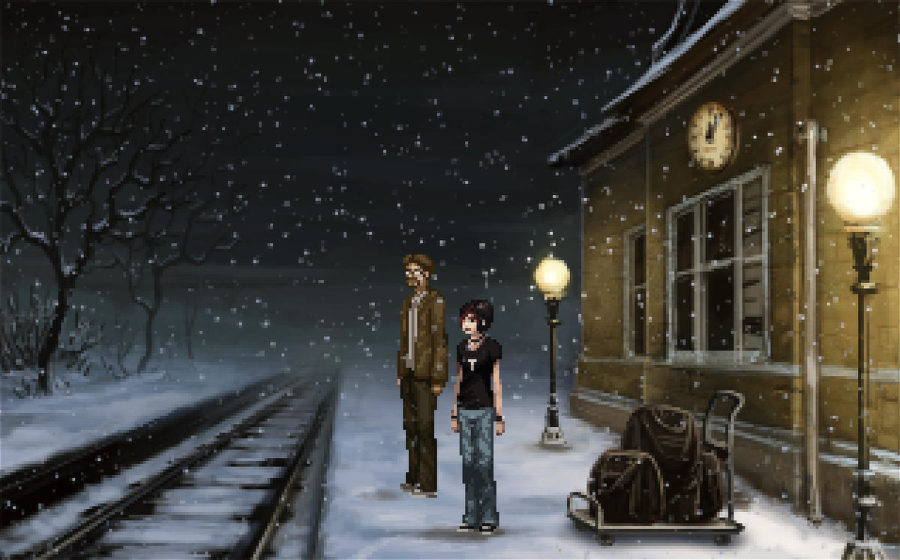 The Charnel House Trilogy, developed by Owl Cave, is a point & click game with pixel graphics. As the title states the game is in 3 parts: Inhale, Sepulchre, and Exhale. The story is about a horrifying and fatal night aboard a train bound for Augur Peak. Even though the game is pretty short, the developers managed to create an eerie atmosphere that puts you at ill-ease in times.
My favourite scene is the one at the station, waiting for the train while snow's falling on the abandoned tracks is so dreamy. Despite the current summer temperatures, Alex gave me the chills though. I mean, who goes out in the snow in just a T-shirt? I'd be wrapped up like an Eskimo!
Anyway, I've played this game a few years ago, and remembered how much I loved it at that time. Meanwhile, I've played so many other games that I've forgotten most of the story of The Charnel House Trilogy so, I planned to re-play it this weekend.
Today, after a great walk at the park, a super delicious sandwich, and a damn fine cup of coffee, I installed myself at my desk, and booted this little gem. Two hours later, I had already finished the entire story. While it was very short, the adventure was worthwhile. The puzzles are a bit too easy, but it made the trip go smooth, and without any challenge. I can understand that some people may have an issue with that, but it didn't really bother me that much. Props for the pixel graphics cause I'm a complete sucker for these. All in all, an absolute must for all adventure games fans.