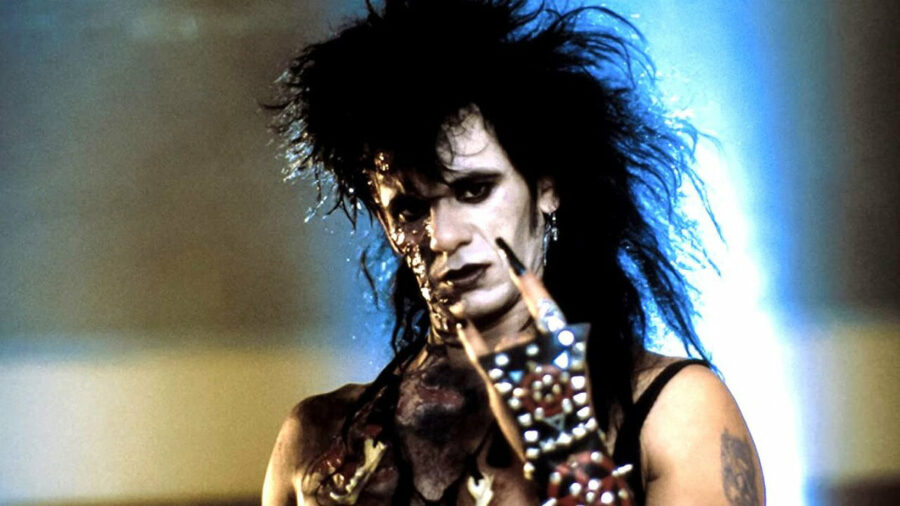 Our annual Halloween tradition is to decorate the apartment with Jack-o'-lanterns, eat pumpkin oven pasta and watch horror movies. This years' movie line-up was supposed to be Insidious: The Red Door and The Pope's Exorcist. We changed this last minute to watch the heavily advertised Trick or Treat 1986 on Bloody Disgusting.
A bullied teenage boy is devastated after the death of his heavy metal idol, Sammi Curr. But as Halloween night approaches, he discovers that he may be the only one who can stop Sammi from making a Satanic comeback from beyond the grave. – IMDb
If you like the 80's, heavy metal, old cassettes,… this movie is an absolute gem. I can't believe – with all the horror I've watched and music I've listened to – I've never heard about it before.
Both Gene Simmons and Ozzy Osbourne appear in the movie. Simmons was offered the role of Sammi Curr, but he opted the cameo role of Eddie's friend, rock DJ Nuke, instead. He claimed that he did this as a tribute to famous rock DJ Wolfman Jack, his childhood idol. Osbourne, however, has two scenes as a conservative preacher denouncing rock/metal. It made me laugh that of all people, Ozzy was the one doing these scenes. The irony!
I have to admit that if Sammi Curr (portrayed by Tony Fields) would have been real, I would have been a great fan. The song Trick or Treat by Fastway is a hit, I've instantly added it to my playlist. It's weird to discover "new" things of the 80's in 2023 while I grew up in that era. Too bad Fastway didn't release more albums than the OST for Trick or Treat, I would have loved their music.
Such a great discovery! Thanks to Sardoken for checking Bloody Disgusting while I was preparing the pasta. A perfect Halloween themed movie for all the metal heads out there!