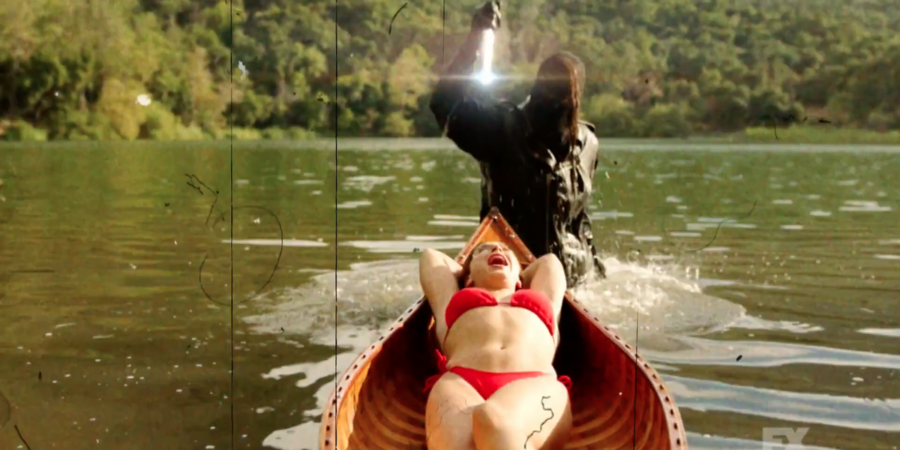 Every Friday night we watch an episode of American Horror Story, I already loved the TV-show, but 1984 is amazing! We've skipped a few seasons only to watch this one, and it was worth it. Weirdly enough, season 9 got a lot of bad reviews. In my opinion, it's one of the best seasons with such an electrifying 80's vibe, it makes you want to plunge into the Camp Redwood bloodbath.
While it doesn't fail to capitalise on Camp Crystal Lake references, Jason Voorhees, or the notorious serial killer Richard Ramirez, the TV-show is full of 1980's nostalgia with a compelling story that keeps you engaged. You have to hand it to the creators, they've got it all right, from the aerobics-scenes, to the music (Kajagoogoo, Billy Idol, Greg Kihn,…), the fashion,… it's a straight trip down memory lane. The opening credits alone are worth the watch:
Also, the casting is as great as always, among my favourite characters this season: Matthew Morrison (Trevor), Emma Roberts (Brooke), Billie Lourd (Montana), and Zach Villa (Richard Ramirez). The scenes have enough gore and horror to keep any slasher fan entertained, and has a somewhat happy and satisfying end. AHS 1984 is an instant add to our regular rerun list, now I only have to find it on blu-ray and we're all set.