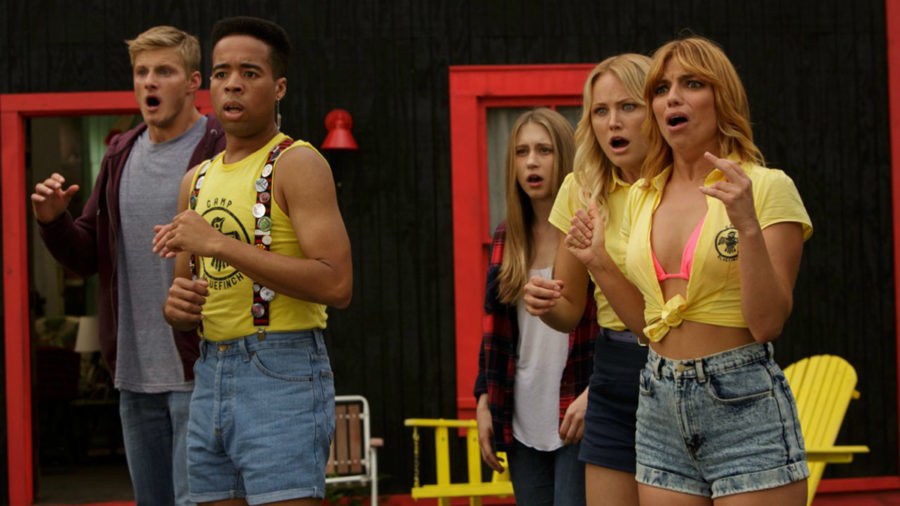 A young woman grieving the loss of her mother, a famous scream queen from the 1980s, finds herself pulled into the world of her mom's most famous movie. Reunited, the women must fight off the film's maniacal killer. – Imdb
The trailer looked like this movie was going to be a badass slasher, so what could go wrong, right?! While it was entertaining, it looked like a horror for little kids. The woods looked too fairy, the few drops of blood (is this supposed to be a slasher?) looked like bright red sugar water, and there was too much emphasis on the "I've lost my mother" drama.
If it wasn't for the casting, I think that we wouldn't have been able to make it to the end. Taissa Farming, Alexander Ludwig, Nina Dobrev,… made it work.
Unlike the 80's slashers, this movie is free of the iconic gore and nudity. For the film to be absolutely true to the genre, there should have been at least one skinny dipping or sex scene, not to mention a decent amount of splatter. All it can offer, however, is a few bloodless death scenes and a couple of the actresses showing off their bra. Shame on you guys!
One funny trivia though: During rehearsal, Thomas Middleditch tripped over the velvet rope in the movie theater. Director Todd Strauss-Schulson decided to add that as a gag in the film in order to momentarily linger on the cardboard standee for "Camp Bloodbath 2: Cruel Summer."
All in all, we've watched the movie until the end, but wouldn't recommend this to any slasher fan. Maybe it would be good for introducing your kids to the horror genre…